Want to Visit Gilmore Girls' Stars Hollow? Here's Your Chance
Let's be real: If you could, you'd visit Stars Hollow, the fictional Connecticut town that's home to Lorelai and Rory Gilmore. Well, now's your chance.
Netflix is building Stars Hollow on UCLA in Dickson Court for "The Festival of the Four Seasons"—a nod to Gilmore Girls: A Year in the Life's four parts: "Winter," "Spring," "Summer" and "Fall."
The event kicks off Saturday, Nov. 19 from 12-6 p.m. and continues on Sunday, Nov. 20. There's going to be coffee from Luke's, Miss Patty's Founders Day Punch (drink at your own risk), Kim's Antiques, a seasonal photo booth, Taylor's Olde Fashioned Soda Shoppe and more, including appearances by real Stars Hollow residents. Rest easy, the gazebo will also be there.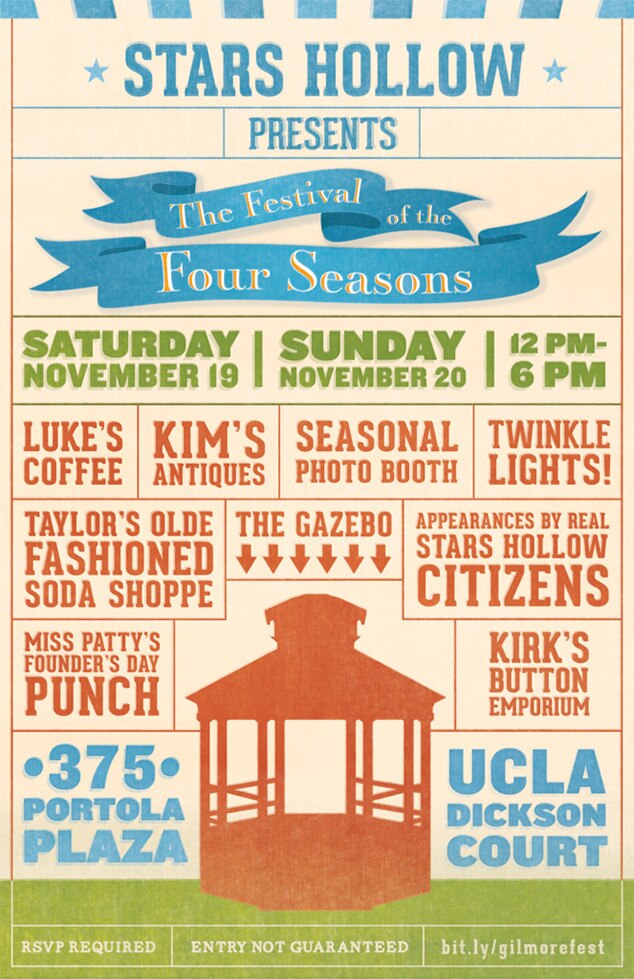 Netflix
So, how do you make your way to Stars Hollow? You have to register and entry is not guaranteed. It's first come, first serve and you get 45 minutes inside the festival.
Gilmore Girls: A Year in the Life picks up roughly 10 years after Gilmore Girls ended its seven-season run. All your old favorites are back from the new four-part series, including but not limited to, Lauren Graham, Alexis Bledel, Kelly Bishop, Scott Patterson, Sean Gunn, Keiko Agena, Liza Weil, Matt Czuchry, Danny Strong, Jared Padalecki, Melissa McCarthy and Milo Ventimiglia.
So, what are you waiting for? Register and get ready to experience the magic of Stars Hollow now.
Gilmore Girls: A Year in the Life drops on Netflix on Friday, Nov. 25. What does that mean? Cancel all your plans.