Kendall Jenner Flashes Nipples in Photoshoot for Love Magazine
once again frees the nipples, this time for the new issue of Love Magazine. Taking part in a spread called "Bright Young Goths", the reality TV star sported an all-black outfit that barely covered her modesty in some photos taken by renowned English fashion photographer Alasdair McLellan.
In one snap shared on Instagram by Love Magazine's editor-in-chief Katie Grand, Kendall flashed her boobs, with two stars covering her nipples, as she wore a sheer black top paired with white gloves, white shorts, a black hat and a choker necklace. She sat on a wooden swing and gave the camera a sharp gaze.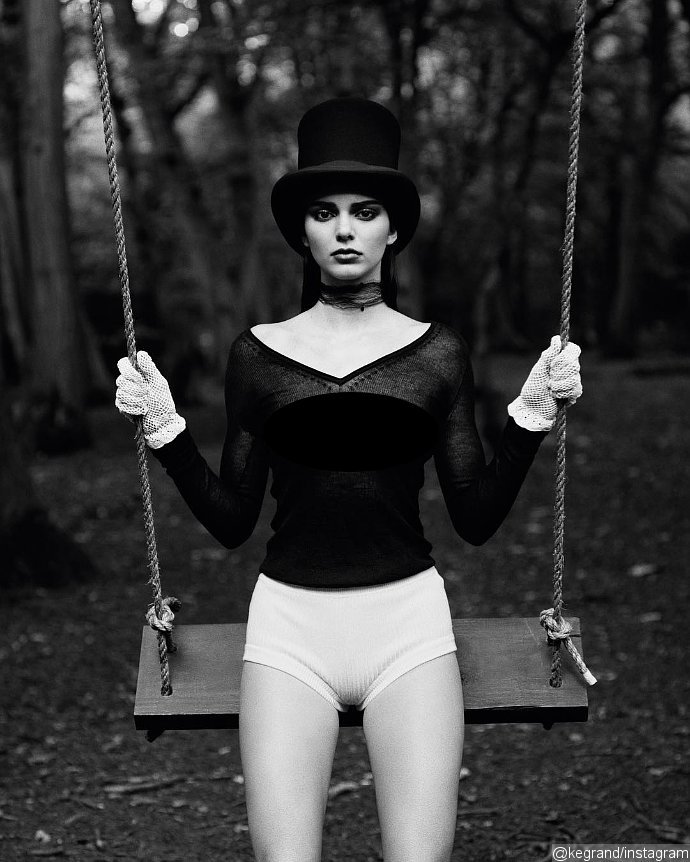 In addition to posing for the magazine, Kendall showed off her photography skills by shooting Kaia Gerber . The 20-year-old star was excited to do the job, because she's been a huge fan of Kaia's supermodel mom .
"I picked Kaia because I think she's amazing and beautiful. I've gotten to know her a bit and she really is such a great young girl with such a good head on her shoulders. You could say I'm a fan of hers, and I would love to see her succeed," Kendall .
"This for me was so cool because it really does come full circle: her mom was my idol; I'm shooting my idol's daughter. I think she has a very bright future. And for me to be able to say in the future 'I shot the young Kaia Gerber' will be so cool!" she added.
Love Magazine's Katie Grand explained that she's the one asking Kendall to play photographer for Kaia after seeing some pictures on the "" star's Instagram.
"I'd liked some of her [Kendall Jenner's] Instagram posts where she had obviously 'composed' the images more thoughtfully than an average snap, so I asked her to take some pictures for the issue," she revealed. "She jumped at the chance, saying she wanted to photograph and style her friend Kaia Gerber. Kaia's mum Cindy Crawford did the hair and make-up."