Is Lindsay Lohan Really Pregnant? See Picture of Her Smoking in Sardinia
has been spotted in Sardinia, a few days after having a fight that allegedly turned physical with her fiance Egor Tarabasov. The 30-year-old actress/singer was seen on board a luxury yacht on Tuesday, July 26 with some girl friends.
While her father Michael Lohan recently confirmed that his daughter told him she's pregnant, the recent sighting doesn't show any hints of her supposed pregnancy. The "" star even , something which a pregnant woman should avoid since it could endanger her fetus.
Lindsay donned a floral two-piece bikini with ruffled sleeves and a mesh neckline. She finished up her look with a pair of vibrant orange sunglasses. Later on the same day, she layered up with a striped pink and cream kaftan.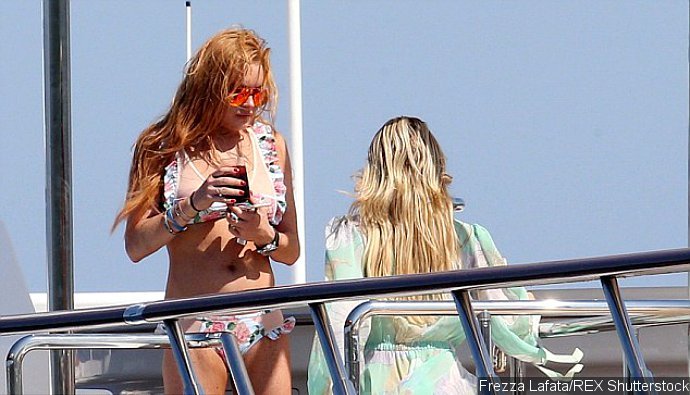 Lindsay first when she posted on Twitter earlier this month a photo of herself with a baby bump in her 2009 movie "". "Lindsay Lohan labour pains trainer – I am pregnant!!" she wrote alongside the snap. She also accused her fiance Egor of cheating on her with fashion designer Dasha Pashevkina when he chose to spend the night partying with another woman instead of being home with her.
The morning after, Lindsay and Egor got into a heated argument at her London apartment. Police came to her house after she screamed from the balcony, claiming her fiance strangled her. But when police arrived, they already left and no arrest was made.
Her father Michael later told that she texted him, "Daddy, I'm pregnant." He added, "I don't know [how far along she is.] She tells me she is and I have no reason not to believe her."
Asked why she smokes if she's pregnant, Michael answered, "Well, people smoke when they're pregnant. People drink when they're pregnant. Lindsay doesn't drink."