How to Get Away With Murder's Luna Velez Dishes on Her "Dream Come True" Reunion With Viola Davis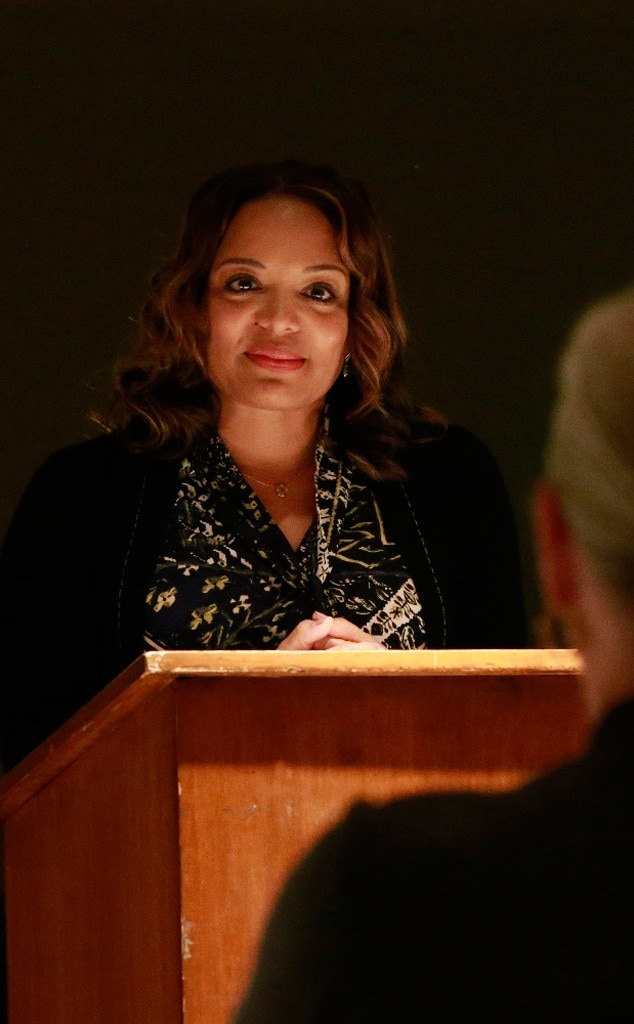 ABC
Her character may be one of the many thorns in Annalise Keating's side this season on How to Get Away With Murder, but for Luna (Lauren) Velez, her working relationship with Viola Davis on set couldn't be more day and night.
"It's just a dream come true, I have to say, because I think she is one of the finest actress of our generation. As an artist, that's what you want. You want a great role and you want someone great to work with that you can also learn from. So, it's fantastic," Velez told E! News about bringing Middleton University president Soraya Hargrove to life as she spars with Annalise. "Intimidating? Maybe a little, but I think I was so blown away when I worked with her." 
"You know, Viola gave me a great compliment when we did a scene from 305, which was this real confrontation. In the middle of shooting, someone said, 'Oh, it's on!' And she said, 'It's a fair fight.' And I took that as a great compliment, just that we sort of were able to take each other on," she revealed. "I worked with Viola 12 years ago on a play off-Broadway, and I thought she was extraordinary then, and I think she's even more so now. These two women together are really fantastic. They're both strong, they're both very intelligent and have reached the pinnacles of their careers. And it's really something to be able to go toe-to-toe with her. It's exciting."
Velez admitted that their time spent work together over a decade ago offered an opportunity to learn from Davis. "We did a play called Intimate Apparel at the Roundabout Theater, and she never left the stage. Every day, it was just like watch and learn, watch and learn," she said. "So, I think then I was really intimidated, but, if anything, I think I sort of picked up on this incredible work ethic that she has that just goes along with the talent. So I just thought: Show up and be prepared and be ready. And my character is the president of the university, so I don't allow her time to be intimidated because she's earned this on her own merit, you know? So, I feel like I just step into character with her and it's great."
While it may be harmonious on set, that hasn't exactly been the case for Annalise and Soraya, as we've watched the formidable law professor suspended from her job and have to claw her way back, agreeing to an alcohol dependency program—which, of course, puts her back in close proximity with fellow addict Soraya. According to Velez, it's this very development that could lead to a major change in their dynamic.
"Well, I think that being forced there and seeing Soraya is a huge surprise and a huge reveal. You never know what someone's story is going to be, so Soraya does something incredibly courageous in this episode which I think is going to change the way Annalise views her," she teased. "Because Annalise has already accused her of being just a good girl and trying to make everyone happy and wanting to get gold stars and doesn't give her any credit for being a little bit tough or just having balls. So, I think once she sees her in AA and she reveals all of this stuff, it's shocking. It's like, 'I had no idea you had this side to you.'"
How to Get Away With Murder airs Thursdays at 10 p.m. on ABC.