Gwen Stefani and Blake Shelton Make Out After Having 'Honeymoon' in Oklahoma
and seemingly can't get enough of each other. Fresh off the plane from their romantic getaway in Oklahoma, the couple was pictured making out after they touched back down in Los Angeles on Tuesday, June 21.
The "Hollaback Girl" singer and the county crooner looked affectionate as they locked lips in front of the plane's engines. Gwen stood up on tip-toe with her arms wrapped around Blake who placed his hands on her pert posterior.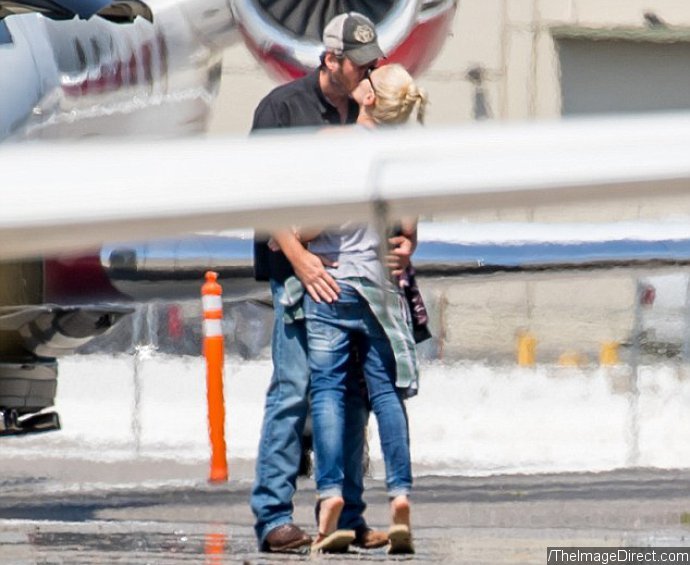 Gwen was seen wearing a gray T-shirt and rolled up jeans with a plaid shirt tied around her waist. Meanwhile, Shelton rocked a black shirt, blue jeans and a baseball hat.
On Monday, June 20, the two headed to Oklahoma to celebrate the summer solstice. Gwen documented their fun outing on Snapchat as she and Blake visited his crops and went on a speedy boat ride around Lake Texoma.
pic.twitter.com/e5TVHv4Tu0

— Gwen snapchats (@gwensnapchats) 19 June 2016
pic.twitter.com/gFxVwA3yDF

— Gwen snapchats (@gwensnapchats) 21 June 2016
They ended the day by looking up at full moon while sitting around a bonfire. The full moon is called "Strawberry Moon", named by indigenous Americans to mark the beginning of strawberry season. "Hi strawberry moon #honeymoon #rosemoon gx #Oklahoma 2016," she wrote on Twitter. Gwen also uploaded on Instagram a cute black-and-white photo featuring Blake leaning his head on her shoulder.