Gilmore Girls Has Its Own Ice Cream Flavor Now and It's Exactly What You'd Expect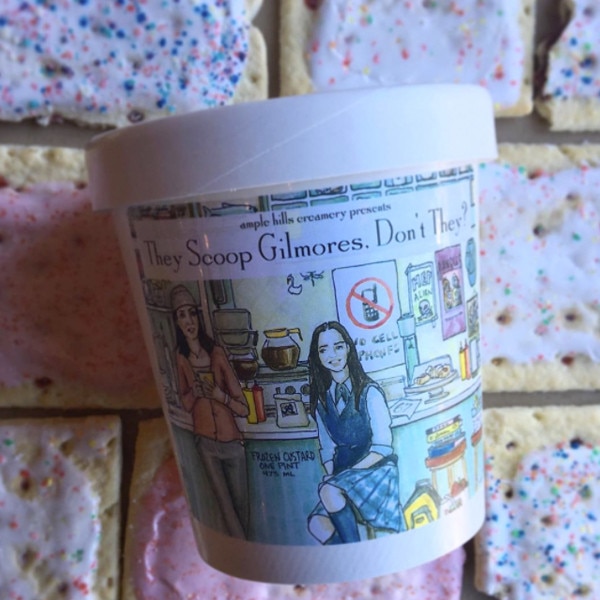 Ample Hills Creamery/Instagram
Gilmore Girls fans have plenty to celebrate. The beloved show is returning with Gilmore Girls: A Year in the Life, a four-part event on Netflix, and now the show has its own ice cream flavor.
Brooklyn-based Ample Hills Creamery has created "They Scoop Gilmores, Don't They?"—the name is a twist on the season three episode "They Shoot Gilmores, Don't They?" that featured the 24-hour dance contest and Rory's (Alexis Bledel) breakup with Dean (Jared Padalecki). The creamery picked the flavor after receiving more than 2,500 entries, they said on Instagram.
So what is it? A coffee—duh—chocolate pudding ice cream (never forget the time Emily Gilmore tried with the chocolate pudding, snickerdoodles (a reference to Lorelai's, "Oy, with the poodles already" line) and pink Pop Tart sprinkles. Enough Gilmore Girls references for you?
The flavor is a combination of three entries. The Gilmore Girls-themed ice cream is available at all New York City locations this week and can be shipped nationwide in individual pints and in a "Where You Lead, I Will Marshmallow" four-pack. Get it?!
Gilmore Girls: A Year in the Life picks up roughly 10 years since viewers last saw Lorelai (Lauren Graham), Rory and Emily (Kelly Bishop). Emily is newly widowed following the death of Richard (Edward Herrmann, who passed away in 2014) and the other Gilmore girls are at crossroads their own crossroads. Padalecki, Scott Patterson, Melissa McCarthy, Keiko Agena, Sean Gunn, Matt Czuchry, Milo Ventimiglia, Liza Weil and many more Gilmore Girls favorites all appear in the revival.
Gilmore Girls: A Year in the Life premieres Friday, Nov. 25 on Netflix.