Binge or Slow-Burn: How Are You Planning to Watch the Gilmore Girls Revival?
To binge or not binge, that is the question this Thanksgiving.
No, we're not talking about binging on enough turkey to send yourself into a food coma, we're talking about Gilmore Girls: A Year in the Life premiering all four 90-minute episodes at midnight on Nov. 25. Sure, there's temptation to avoid the Black Friday crowds and devour the revival in one sitting, but what if you want to savor our return to Stars Hollow a bit. What's a Gilmore obsessee to do?!
Well, it if was up to series creator Amy Sherman-Palladino, the show would've bucked Netflix's release trend and rolled out the episodes, mostly because she feared spoilers in the age of social media–specifically in regards to those infamous four four words.
"I told them I'm going to hang myself with the shower curtain if put them all out," she said at the 2016 Summer TCA Press Tour. "It was my hope to put them out separately, because I'm 1,000…and it's such a journey and a build to the last four words, and I knew people were going to go" to the final moments and "spoil it."
Of course, she didn't get her wish. "I didn't want to put them out separately but the good outweighs the bad," Amy said, adding that Netflix is "a wonderful place to create things in a different way, so the shower curtain will wait."
Today's edition of E! News' Gilmore Girls Coffee Talk has our office's Gilmore Girls fans revealing how they plan on watching the revival, and we want to hear from you as well. Tweet your GG-viewing strategy to @EOnlineTV or share it in the comments below. 
Tierney Bricker: Because I am a masochist, at least when it comes to TV, my dream was for Netflix to debut a new episode at the start of each new season because each episode takes place in winter, spring, summer and fall. Can you imagine watching "Fall" on the Autumnal Equinox?! It's how Gilmore Girls should be viewed in a perfect world. But since the world is basically a garbage fire, I'll just binge-watch all four as soon as the clock strikes midnight, preferably with a cup of coffee in hand and a snack spread that would make Lorelai and Rory proud.
Chris Harnick: When Netflix drops a new season of something I'm very excited for, I always say, "This time I'm going to take my time and enjoy it." Fast forward hours later with take-out containers littering my living room…But with Gilmore Girls: A Year in the Life, there's the holiday factor at play. Family obligations mean I will not be sitting on my couch for 360 minutes straight on Friday, Nov. 25. Two episodes that night, two episodes Saturday. Sunday is then reserved for waxing poetic about how great Emily Gilmore is and telling everybody I know how I felt about the episodes.
Mike Vulpo: Yes, I plan to watch Rory and Lorelai Gilmore Friday evening, but Black Friday shopping comes first! Wait, does this mean the malls will be less crowded this year?
Jean Bentley: I'll be on a Thanksgiving wine tasting vacation with a group of girlfriends, so I plan to come back from a winery, open a nice bottle that I bought earlier in the day, and watch one episode at a time with my favorite people throughout the weekend (and stay off social media until I finish). I feel like Rory and Lorelai would approve.
Billy Nilles: Much as I want to devour all four back-to-back once they're released at midnight, I'm going to try and practice some self-control, savoring one a day. At least, that's what I'm telling myself. But much like my eating habits on Thanksgiving, all self-control usually goes out the window when everything's finally there in front of my face.
Traci Doromal: As someone who's watched and lived with the Gilmore Girls for more than a decade, I've been waiting so long for this that I still can't believe it's here – but I also never want it to end. Which is why at midnight, I'll disconnect myself from all social media (#NoSpoilers) and with a box of tissues next to me (I have emotions), I'll take a few deep breaths and press play. After a repeat viewing of Winter with friends later that day, I'm spreading the other three episodes out as much as I can and ending on Sunday night, because let's be honest, is as long as I can stay off the Internet.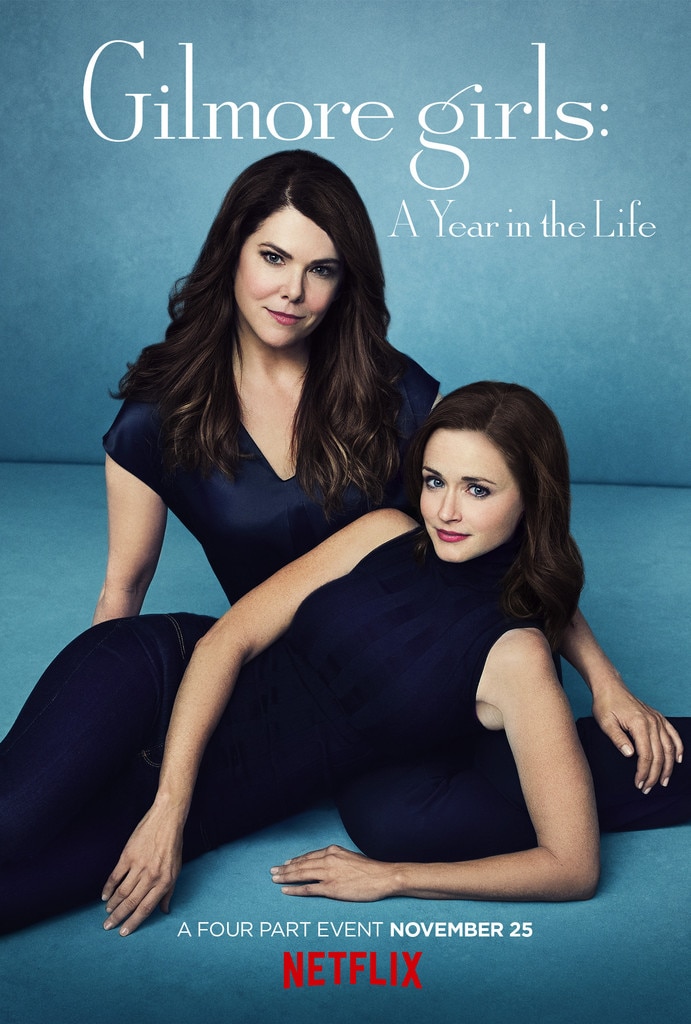 Netflix
Taylor Banks: I've made zero plans that Friday just so I can properly prepare! I'm making my mom watch all four episodes with me throughout the day as we order every kind of take out, drink coffee and talk really, really fast. 
Lauren Piester: I'm so conflicted, because in theory, I want the new episodes to last as long as possible. But knowing how I binge things and how much I'm looking forward to this, I'm pretty sure I'll watch them all immediately without stopping unless I absolutely have to, and then I'll just cry for a few hours before starting them all over again. Then maybe I'll have time to recover by the time Monday rolls around and I have to be emotionally functional again.
Gilmore Girls: A Year in the Life premieres on Friday, Nov. 25 on Netflix. Be sure to come back to E! News for more Gilmore Girls Coffee Talk leading up to the revival's premiere.