Ben Higgins Almost Did Not Propose to Lauren Bushnell on 'The Bachelor' Finale
and Lauren Bushnell's happy ending on "" season 20 finale could have been different. While the 26-year-old hunk knew that Lauren's "the one" for him, he considered not proposing to her right away after he broke up with the runner-up, JoJo Fletcher.
Ben tells that even before he began filming the show, he wanted to make sure that he wouldn't find himself in "a forced love" and having to get engaged at the end. "I asked, and they said, 'No, whatever you want to do – if you want to walk away from it, if you want to date, you can propose to that person…' So I said I'm not going to [propose] unless I meet the right person," he recalls.
When that moment came, Ben had some hesitation about popping the question to Lauren due to his "strong feelings" for JoJo. "It was something that did cross my mind, if this is the best option now," he admits. "Like, is it better to get out of this, and then come back and re-propose at some point?"
The software salesman from Warsaw, Indiana eventually decided to get down on one knee because he wanted Lauren to know what he felt for her. He explains, "I didn't want to walk away from this experience without Lauren. I wanted her to know what I felt for her and that those feelings were real, no matter how weird it is."
"I'm also really happy that I proposed to her on that day," he shares, "Because it's a commitment now that's going to last us forever."
In another interview with AOL Build, Ben reveals the time he fell in love with Lauren. "It was at the second cocktail party, and she walked around the corner," he says. "I was talking to Lace at the time, but [Lauren and I] made eye contact and everything stopped. My world was totally different in that moment. She would've laughed, but I wanted to go up and kiss her. It was this moment of calm. She was smiling, and she was there."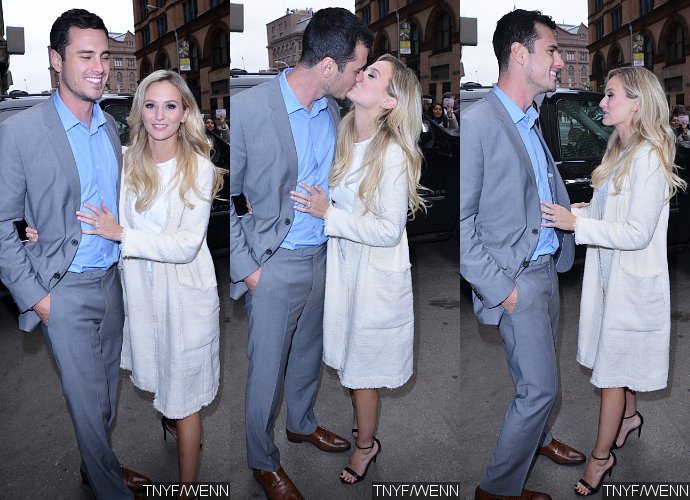 Of his controversial double L-bomb, Ben says, "I don't regret it. Was it the best decision to express it? It's hard to say, but it led to me Lauren in the end. … It [Falling in love with two women] happened for me, and I had to express it. When it got to the point where I was having those feelings, I said them. Not everyone loved that, but it led me here, and that's all I could ask for."